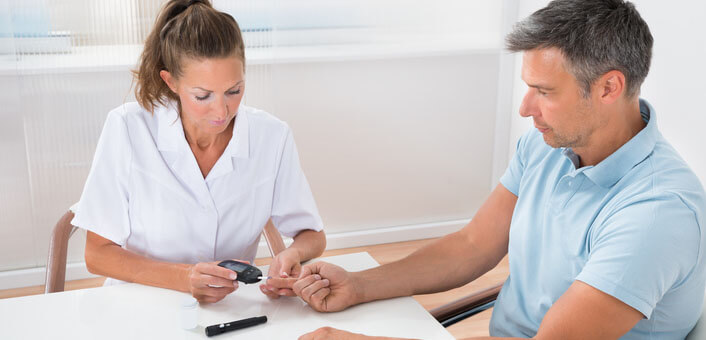 13 Sep

Studies Find Long-Term Testosterone Treatments May Help Reverse Diabetes in Hypogonadal Men

Research has found new ways that testosterone injections and treatments can help improve men's health issues. Many males use testosterone treatments to help alleviate daily struggles such as erectile dysfunction, sleeping habits, mood, physical performance and more. One of the latest studies on testosterone treatments suggests that it may be able to contribute as a diabetes treatment in hypogonadal men.

This study found that long-term testosterone treatments given every three months for nearly a decade had an impact on diabetes in men with hypogonadism. In fact, 22% of the men experienced full diabetes remission. These unexpected findings will still require a great deal of additional research, but this promising research is suggesting there may be entirely new uses of the hormone that science has not yet explored.

What was even more encouraging was that of the 133 patients in the study, all of them experienced benefits from the testosterone therapy. The team found that the longer the patients received their testosterone treatments, the higher their probability of going into remission is. With this in mind, the doctors conducting the study want it to be known that testosterone therapy isn't a "quick fix" but the type of therapy that necessitates years of consistent treatments in order to deliver results.

Experts from the American College of Endocrinology and the American Association of Clinical Endocrinologists already recommend that men with obesity and/or type 2 diabetes already get their testosterone levels checked, particularly if they are experiencing signs of hypogonadism (which is common). These signs and symptoms include decreased libido and erectile dysfunction.

The most important thing for men to remember is that proper testosterone levels can help with many different health issues, and researchers are finding more and more ways that testosterone can lead to better overall health. However, the first step in seeing what testosterone can do for you is getting your levels checked to determine if you have low testosterone.

If you have more questions about testosterone treatments and how they may be able to help you, then visit us at LT Men's Clinic. We can check your testosterone levels and help recommend different treatment options for those who experience low testosterone. For more information, call us at 817-369-3605 to make an appointment today! We have testosterone treatments available to help with a number of different conditions including certain types of diabetes.